According to the BBC, the number of children in care is estimated to reach 100,000 by 2025, a rise of 36% in a decade [1].
At the same time, the cost of living crisis and the after-effects of Covid have all contributed to a reduction in the number of foster carers in the UK. This has meant that many more children now require support from a fostering agency in London and all over the country too.
WHY IS FOSTER CARE IMPORTANT?
Children of all ages and backgrounds may need foster care at some point if they can't stay with their birth family. For some, foster care will be a short term solution, but for others, it could last several years.
Foster care is a very important part of supporting young people and your local community for a variety of reasons.
The most important is that foster care can fundamentally change a child's life for the better by providing them with a safe space and consistent care. Foster carers not only look after their everyday needs but help young people to thrive by supporting their unique educational requirements. There is a significant attainment gap between children in care and children not in care. For example, around 15% of children in foster care receive a grade A-C in GCSE maths, compared to around 60% of their peers. Giving them a regular routine and specific support can close this gap and set them up for future success.
Foster care is also very important in helping children to develop their emotional and social needs. Having to leave the family home for whatever reason is a traumatic experience, and some children may have also experienced abuse or neglect. Foster care can support them in building / re-building their self-esteem, resilience, and social skills and in recovering from these traumatic early experiences.
If you're new to foster care, this may sound a little daunting, but your local fostering agency in London, or your area will give you the tools and help you learn the skills you need to look after children with additional needs.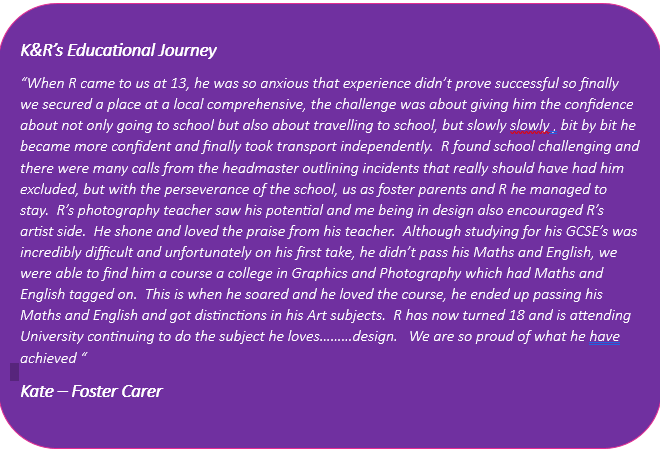 FOSTER CARE SUPPORTS FAMILIES FACING DIFFICULTIES
There are many reasons why children may need to go into foster care, from parental illness to cases where parents may require mental health or addiction support. The aim of foster care, wherever possible, is to help families to remain together. Foster care allows parents to receive support, too, and whether the foster care is a short or long term placement, all carers play a special role in helping to give not only the children but their families, essential support.
SUPPORTING YOUR LOCAL COMMUNITY
Foster care also plays an important role in supporting the local community. By giving children a safe space to live, foster carers are helping to address wider social problems, such as homelessness, poverty, and drug and alcohol abuse.
Ascent is a fostering agency in South London with many years of experience. If you're thinking of becoming a foster carer, or you'd like to learn more about what it involves, please call us on 0204 538 3699 or have a look at the FAQ page on our website.